Personal Recollections about Mr Poland
What Mr and Mrs Poland did for Brockham:
Mrs Poland started the Women's Institute and held it in the Church Room, after she had died it increased so much that it was held in the Village Hall.Mr Poland started the village cricket club and played in it himself and it was held on the Green every Saturday in the summer. When he got too old to play he used to go and watch them play.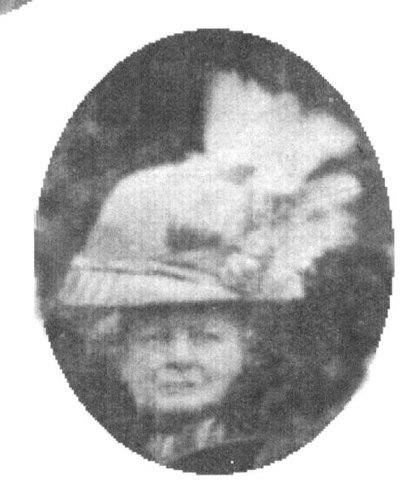 When he lost his wife his sister Miss Poland came to live with him, he died on April 26th 1936. He was buried in the churchyard at Betchworth with his wife. He gave the children of Brockham goods and shoes, the grown ups groceries. At the Church, he put in two glass windows in
memory of his wife, he left the money for the east window in memory of himself, and he also had put in the bells and lych gate installed.
From the Women's Institute Scrapbook:
The Boatwright sisters, now living at Kenwood Court, who as children lived at Brockham Pit Cottages recall being given shoes by Mr Poland, he also gave shoes to their father. Boxes of fish would be unloaded from trains at Betchworth Station and delivered to Mr Poland for distribution around the village On Shrove Tuesday, eggs and lemons could be collected from "Brockham Manor" to make pancakes. Various outings are also recalled, including one to London Zoo.
Extracted from Birth of a Parish, Christ Church Brockhamby Katie Dodson 1988:
The Sidney Poland bequest to the church provided for an octave of bells, tuned in the key of B. The largest weighs 7 cwt and the total weight is 28 cwt. The bells are fixed stationary and are operated by means of a hand clavier or keyboard, the keys of which are connected to clappers inside the bells. £250 of the bequest was spent on the lych gate, as willed by Mr Poland. Designed by Frederick Hagyard, a local architect, it contains four tons of English Oak and rests on a base of Cotswold stone. Among the village craftsmen who worked on it were the names Risbridger, Monnery, Jordan and Cornwell.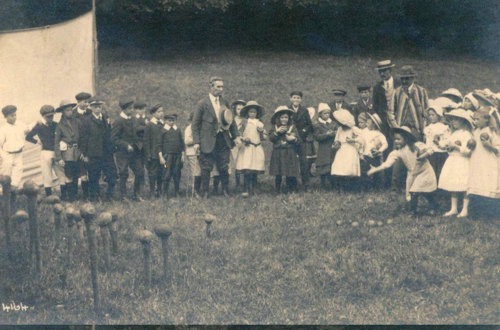 Sue Smith:My parents first lived in Bamboo Bungalow which was owned by Poland but managed by his agent Mr Capon who would arrive on Christmas Day to collect the rent! Poland lived in The Manor, Kiln Lane where his wife died and he stayed on with his sister who was unmarried. In Brockham, Mr Poland bought shoes for the school children, paid for them to have a bus outing to the sea and was a general benefactor. This included supporting the cricket club where he would have a small marquee erected for the first eleven games. Poland left three and a half percent war loans stock to the cricket club. In his will he established the Poland Charity that now run Poland House and the amenity land. He stipulated that Trustees should be five gentlefolk and two villagers a condition struck out by the Charity Commissioners. Miss Poland, Mr Poland's sister, ran "Christmas Corner". Children had to gather and sing carols and after a while file past a table where she gave a couple of pennies. Then more carols and more pennies 'till she ran out of money.
Reg Glanfield:1920s: All the children at school went every year to his house where the staff would measure us and give us shoes. On another occasion each year we would go and be given wet fish for a meal for the whole family. With others from the school we travelled by charabanc to London Zoo. The charabanc was opened top and seats were lined up singly one behind the other, five rows of them. The school went to Ramsgate, again funded by Mr Poland for four days. We went at different times accompanied by village adults, Mr Houghton and Mr Chance and stayed in boarding houses. We were also allowed to use his boating pool near the river where we were always watched over by a gardener. There were rowing boats and canoes but it was very shallow and the oars would strike the bottom. Close by was a two rink bowls green where Mr Sherlock, Mr Stent and Mr Jordan used to play.
Len Jordan: When my dad left school he went in to the building trade. But only for a fortnight! Apparently it rained every day and he earned approximately nothing.Edward Jordantook up gardening just after he left school and worked for Sidney Poland at the Manor for around fifty years until his retirement aged sixty four due to ill health. Dad seemed to take part in most things in the village in those days. He was, by all accounts, a good cricketer. In fact Mr. Poland, who was a member of the Surrey County Club, used to get father to bowl to him in the nets on the manor lawn. He would put a sixpence on the middle stump, and when dad knocked if off he kept it, and it would be replaced by another tanner. Later on, when Mr. Poland had the bowling green laid, down by the river, dad took up bowls.Johnson Risbridgerwas a very well known local carpenter. He was responsible for building the lych-gate paid for by Mr Poland in his will. I stood watching him erecting the lych-gate one day, and he said to me - "I have put brand new shiny pennies in all the joints, so in years to come someone will find them and know when the gate was put up".
Another part of Brockham, long gone, was Mr. Poland's boating pool situated at the end of the Bowling Green. This was open on Saturday afternoons until around 7 o'clock and on Tuesday evenings. It has now practically disappeared from view, and trees are growing through it. There were also swings and a slide.
Cricket: Reg Glanfield: In the 1920s on Saturday afternoons the gardeners at The Manor would wheel a cart to the Green with a tent and equipment for the cricket match. Mr Poland and his sister would attend and sit in the marquee with Miss Poland supervising the teas.
Way House:1928 Mr Poland was paying for all the milk, three gallons a day, and potatoes for all forty five girls. The travel costs and holiday, held in Margate, and the Christmas dinner were paid for by Mr Poland.By kind invitation of Miss Poland, the girls used the boating lake in Kiln Lane once a week. Miss Poland died. Sidney Poland died on 27th April 1936. Another memory of that time, which continued until the farm closed, was two girls carrying a large can of milk from the farm of Mr Sidney Poland, of Brockham Manor to the Home each day.