Sidney Michael Poland
(From notes by Sue Smith, Bob Bartlett and Tony Hines June 2000)
Sidney Poland purchased Brockham Lodge in 1888 and lived there for forty eight years. Brockham Lodge, described in 1887 as a delightfully - situate residence, suitable for a moderate family and surrounded by the estates of the late Mrs Hope, Sir Benjamin Brodie and others. Previous owners had included the eccentric Captain Morris, lyricist and member of the Beefsteak Society, William Bennett who bred the first emus in this country, and the Annings.
Although traditionally known as Brockham Lodge, Poland's desire for status and recognition saw him rename his home, Brockham Manor.  He (apparently) made his money after the First World War, principally on one deal, buying a very large consignment of fire damaged seal skins, undamaged by the fire but wet, he was quicker than others to realise that seal skins were quite used to being wet! Sidney Poland assumed the role of Lord of the Manor, incredibly generous in life and even more so in death.  Poland House and its estates have benefited a considerable number of villagers over the last fifty years. Miss Poland, his sister was held in very high regard within the village.  After his death, she continued in her role as "The Queen Victoria of Brockham", often dressed in black, short and dumpy. She was a great supporter of all things from Brockham, especially Cricket.  The Poland tent was erected on cricket days, where Michael and his wife Edith and after his death, his sister, Miss Poland, received guests and watch cricket, before the veranda and the Village Hall were built.  Boys would wait on the tables and run errands.  Both Mr Poland and his sister were Presidents of Brockham Cricket Club, his will left money to change their colours to brown and light blue.  A small fund was also left to the club.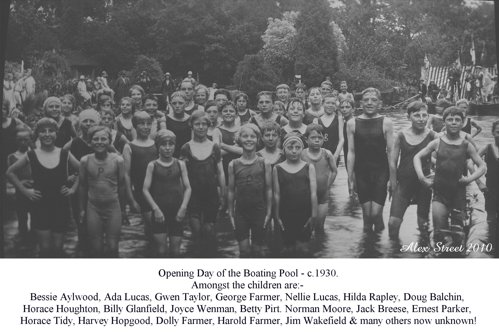 The boating lake, behind Poland House and adjacent to the Bowling Green is now all but disappeared.  The outline of the brick surround is only just visible during the winter.  As the photographs show, once very popular, but its use was under the strict control of the Poland's.  The girls from Way House used the pool once a week. Christmas Corner, now more generally known as the junction of Kiln Lane and Brockham Lane was the location for carol singing every Christmas.  Miss Poland (his sister) would generously give £2 to the children, no matter how many there were. The Poland bequests to Brockham has ensured his memory for ever, the Church Lych gate, Windows in the Church, Poland House and the Poland Trust, holidays for Way House girls and trips out for villagers.
The manor was knocked down in the early 1950s, a dark and dingy place.  The grounds, still picturesque, were once famed for the crocuses which attracted many visitors.  The water fall to the east of the Borough Bridge were put in place by Mr Poland to add interest to the flow.
Sidney Michael Poland died in 1936. Miss Poland died in 1950.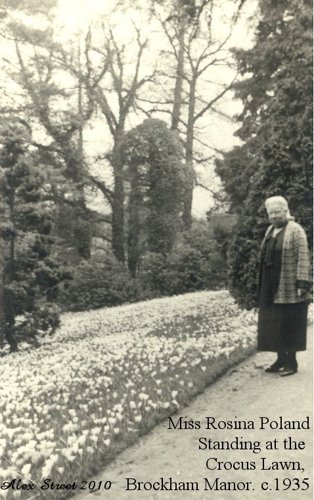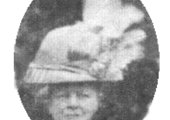 Personal Recollections about Mr Poland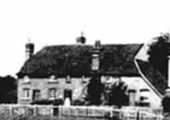 More about Sidney Michael Poland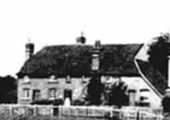 Will of Sidney Michael Poland