Coal Merchants
Coal Merchant -  Holman and Budd
Holman and Budd owned the coal merchants as well as farming the Leighs and Pondtail farms.  The coal was collected by Syd and Ted Budd from Betchworth station by horse and cart and delivered around the area.
On leaving school, Syd worked with his father and Mr Holman as a coalman. They had five horses and carts and employed three people along with Syd and Ted and Percy Holman to deliver the coal. They sold Nottinghamshire coal and anthracite from the Seven Sisters mine in South Wales.  This was delivered to Betchworth where it was bagged and delivered all over Brockham and Betchworth.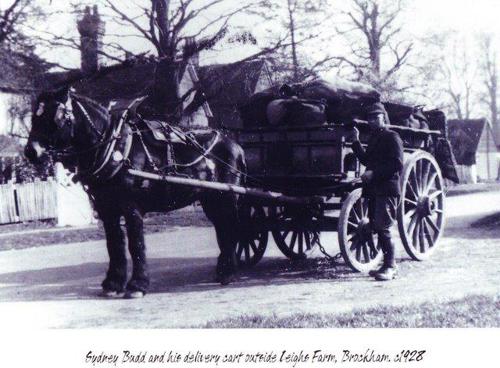 Syd Budd at Leighs Farm 1928
Len Smith of Horton's grandad, Joe Smith, lived in Fell Cottage and worked for the business as did Tommy Flint who lived in Dells Cottage which was rented to Holman and Budd. There was another coal merchant at Betchworth station, the Young brothers, The yard closed and coal was diverted to Dorking where following Beeching cuts they had to go to Crawley to collect the coal. In more modern times, the men also delivered grains of coal the most expensive, in thick polythene bags used to drip feed large boilers and were used mostly in the big house where boilers heated the radiators.
Syd Budd at the entrance to Leighs Farm with Holly Cottage in the background
'The five horses and carts were kept in the barn at the rear of Leighs Farm in an area where the large barn converstion house now is. During the 1927 coal strike nothing came by rail and a haulier from Holmwood went to the pit areas of Nottingham and brought us back our supplies.
A new lorry was bought two weeks before the outbreak of war, in August 1939, the first move away from horses. As soon as war broke out. the army came and commandeered the vehicle - they did pay, and we bought a fine second hand lorry from Bakers in Reigate. It lasted for years. It was possible in the early days to take a horse and cart off Wheelers Lane, post Noys End on Blind Lane down to the Home in Wheelers Lane. This became impossible when the land was sold to buid Oakdene Close and the path narrowed.                                                       
This land and that for the allotments and other areas at where the houses are, was a part of Tumbledown Farm owned by John Berry in the 1920/30's. Bob Chudleigh developed Wheelwrights Cottage which was two houses (he also developed Mynthurst at Leigh) Horton's yard is known as Noy's Yard again a link back to the family on The Green and Noys End'.  Syd Budd.